Sharp Weapon: Sharp Weapon(N)
Electrified: Electrified(N)
THE PERFECT GIFT FOR VALENTINES DAY, CHRISTMAS, BIRTHDAY, WEDDING AND ANNIVERSARY FOR THE PERSON WHO LOVES CRYSTALS OR ROSES!!
LOVE CAN'T BE DESCRIBED.
IT HAS NO SHAPE, IT HAS NO FORM.
LOVE IS NOT AN OBJECT.
LOVE DOES NOT CONFORM.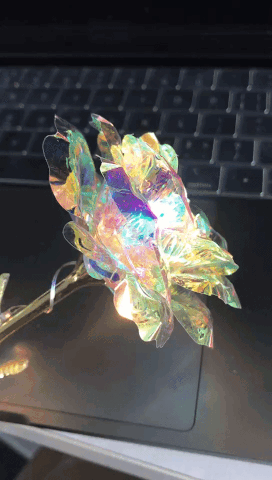 REAL ROSES ARE A BEAUTIFUL GIFT BUT THEY QUICKLY WILT. GIVE A REAL 24K GOLD ROSE THAT WILL LAST A LIFETIME. 
24K GOLD FOIL DIPPED WITH CERTIFICATE OF AUTHENTICITY. ROSE IS MADE OF POLYETHYLENE (NOT CRYSTAL OR GLASS) AND DIPPED IN 24K GOLD. 
US ORDERS - DELIVERY IN 20-35 BUSINESS DAYS ONCE SHIPPED. SHIPS WORLDWIDE. ALLOW 2-3 WEEKS FOR INTERNATIONAL SHIPPING.
PERFECT GIFT FOR ANY OCCASION: Rose, as a symbol of love, ideal not only for gifts to loved ones, friend or a teacher, but also would look amazing as a centerpiece in your living room or bedroom
PASSIONATE & ROMANTICS: Red rose, passionate and romantics! Not only as a symbol of forever love and appreciation, also is a symbol of best wishes.
The never fade Rose represents Faith in Love Forever. - It is a special way to telling her/him "Love you more as time goes by". Great for home decor, would look amazing Anywhere You Want. Also makes Great Gift for Valentine's Day, Anniversary, Wedding, Birthday etc.
1 * 24k Gold Dipped Polyurethane Rose (no light)
1 * Ceramic Vase
1 * Gift Box