Sharp Weapon: Sharp Weapon(N)
Electrified: Electrified(Y)
THE PERFECT GIFT FOR VALENTINES DAY, CHRISTMAS, BIRTHDAY, WEDDING AND ANNIVERSARY FOR THE PERSON WHO LOVES DISNEY OR BEAUTY AND THE BEAST!!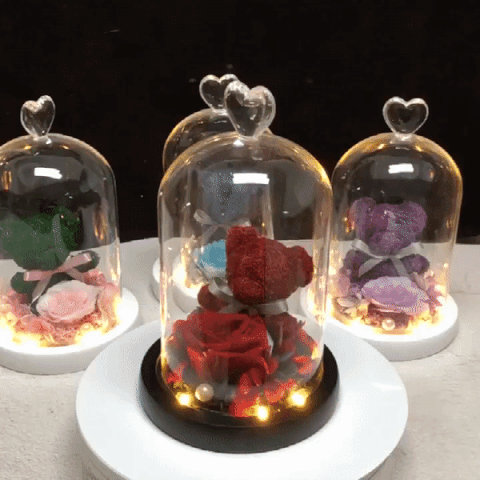 THIS LIFE-SIZED REPLICA OF THE ENCHANTED ROSE INSPIRED BY BEAUTY AND THE BEAST IS ABSOLUTELY EVERYTHING YOU HOPE IT WILL BE! THE REMOVABLE GLASS DOME IS PLACED ATOP A BASE, ENCASING A SINGLE MAGICAL ROSE. 
ROSE IS SYMBOL OF TRUE LOVE, THIS EVERLASTING ROSE CAN BE THE SYMBOL OF YOUR FOREVER LOVE, FOR WIFE, MOM, GIRLFRIEND,OR JUST TO SOMEONE WHO YOU REALLY WANT TO SHOW YOUR LOVE.
SPOIL YOURSELF OR SURPRISE A LOVED ONE WITH THIS HIGHLY DETAILED ENCHANTED ROSE.
US ORDERS - DELIVERY IN 12-25 BUSINESS DAYS ONCE SHIPPED. MOST ORDERS ARE SHIPPED WITHIN 72 BUSINESS HOURS. SHIPS WORLD WIDE. PLEASE ALLOW 2-3 WEEKS FOR INTERNATIONAL ORDERS.
Features:
[REAL ROSE & Long Lifespan] The Premium Eternal Rose is a real fresh rose that was preserved in a very special technique that allows it to last up to 3-10 years without any watering or maintenance. For best care try to avoid direct sunlight, high moisture, dusty areas and best in cool temperature rooms. Real Rose Petals and Leaves, Enchanted Rose An Expression of Eternal Love.
PERFECT GIFT FOR ANY OCCASION: Rose, as a symbol of love, ideal not only for gifts to loved ones, friend or a teacher, but also would look amazing as a centerpiece in your living room or bedroom
PASSIONATE & ROMANTICS: Red rose, passionate and romantics! Not only as a symbol of forever love and appreciation, also is a symbol of best wishes.
The Immortal Rose glass dome represents Faith in Love Forever. - It is a special way to telling her/him "Love you more as time goes by". Great for home decor, would look amazing Anywhere You Want. Also makes Great Gift for Valentine's Day, Anniversary, Wedding, Birthday etc.
Specifications:
Size: 12 x 20 cm
Power: AAA x 3 (not included)
Package includes:
1 x Immortal Preserved Rose Bunny Rabbit Glass LED Display
Packed in safe and secure foam.